About BROKITE Custom Carbon Boards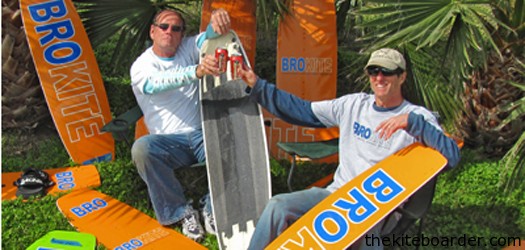 BROKITE was launched in 2008 by kiters Jerry Hartung and West Hansen. These two go way back and were brought together by their love of water sports.
They met while windsurfing in Austin, Texas and their friendship grew while chasing the wind.
Jerry, an art professor, and West, a business major, put their formal education aside to work in the board building business. This allowed them the freedom to chase the wind and live in locations like Corpus Christi, Texas, Hood River, Oregon and Maui, Hawaii.
While working alongside such notable board builders and shapers as Ed Angulo, Jeff Timpone, Peter Nordby, Z-Man and others, they continually, as mad scientists, tried to build a better board.
In the late 90's they became interested in kiteboarding. Jerry, then located in Corpus Christi, and West a little farther North, Chicago to be exact, came together again when Jerry became the head of R&D at Zero Gravity Kiteborading and asked West to join him. After working at Zero Gravity for six years, they decided to take their collective experience and build a no-holes barred, full-on dream board.
BROKITE is the result of this decision and their 25 year odyssey.
Many exclusive innovations followed including G5 CORE construction, the Reactive Continuous Rocker Line and the FailSafe Stainless Insert.
You no longer have to buy a board from who knows who from who knows where. BROKITE simply makes the best twin tip carbon board available, one at a time……when the wind's not blowing!